Exterior Painting Company in Ventura County, California
Pacific West Professional Painting is a premier painting company known for our professional exterior painting. Our services can be found throughout all of Ventura County, California; Camarillo, CA; Oxnard, CA; Thousand Oaks, CA; Newbury Park, CA; Santa Paula, CA; Simi Valley, CA; Port Hueneme, CA; Moorpark, CA; and Santa Rosa Valley, CA. Your home is one of your most valuable investments and at Pacific West Professional Painting we not only understand that, but treat your investment as if it were our own.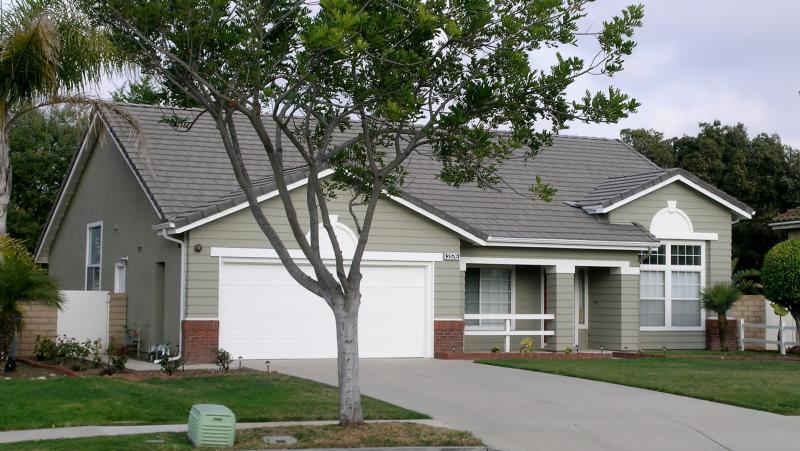 Exterior Painting–How We Do It
Trench around the foundation to enable painting below grade for better water intrusion protection at the foundation. Pressure wash all surfaces to be painted to remove loose paint, dirt, algae, mold and or mildew.
Remove hardware from surfaces to be painted, such as exterior lights, mailboxes, etc. to enable painting behind objects, not just around them.
Scrape and edge sand all wood surfaces. Remove any rust from gutters, metal fencing, etc.
Patch wood surfaces as needed with Bondo, the strongest patching compound available.
Caulk gaps and openings around fascias, siding and trim with a top quality caulking to seal out moisture and preserve wood surfaces.
Patch any cracked, chipped or missing stucco or plaster with the appropriate patching material to match original surface finish.
Mask off windows. Cover plants, shrubs, walkways, patios, etc. to protect them from paint applications.
Spot prime any bare wood and wood patches with a top quality primer designed for wood surfaces.
Spot prime stucco patches with a top quality primer designed for masonry surfaces.
Spot prime or fully prime rusted metal surfaces with industrial grade red oxide rust inhibitive primer.
Apply two full coats of top quality, 100% acrylic finishes on all surfaces to be painted.
Return any removed hardware and thoroughly clean job site of any work related debris.
Leave extra labeled paints for future use and reference.
Ensure your complete satisfaction.